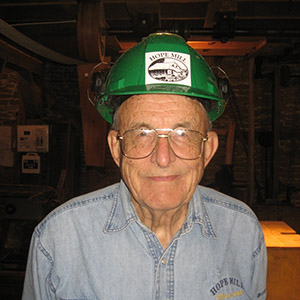 Bob has been at the Mill since 2000. Bob was instrumental in saving the Mill and has now retired from active volunteering.  He is a retired electrical engineer with 47 years R&D experience on large power generation equipment with GE Canada plus 12 years of consulting services, with a passion for old machinery that needs resurrection. A tree hugger, caretaker of 100 acres of reforestation who does acrylic painting and short story writing.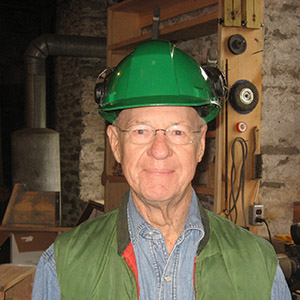 Jack has been a volunteer at Hope Mill since 2002. He is a retired Manufacturing Manager from GE Canada and has extensive experience in machine building and maintenance. Jack enjoys the challenges at the mill as well as the association and interaction with the restoration team. He makes and restores furniture at home with the help of his wife, Ann. Jack also like to fish and duck hunt.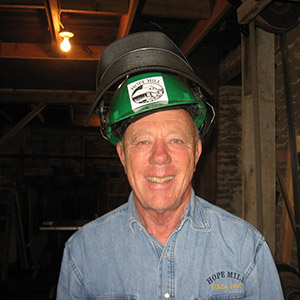 Alex has been volunteering at the Mill since 2008. He is retired from Lakefield College School where he taught chemistry for 31 years. Alex works on the saw floor as well as the woodworking shop. He spends his time woodworking in his shop at home, travelling by plane, car and canoe with his wife, José.They also enjoy spending time with their two grand children.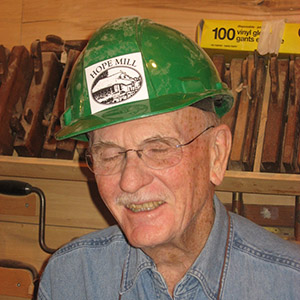 Joe has been at the Mill since 2002 as the woodshop restoration man. He is a retired owner of a process equipment company. He has restored the workshop and now is building projects there made of Mill wood. He enjoys making Windsor chairs in his home workshop as well as fly fishing, fine food, and wine.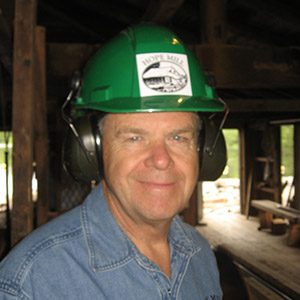 Dave joined the Hope Mill volunteer team in 2012, having recently retired from a 41-year career in engineering, 33 of which with GE Canada, Large Motors division. A professional Mechanical Engineer, he enjoys maintaining and operating mechanical equipment, and when not cottaging or enjoying the outdoors golfing or cross-country skiing, tinkers with all things electrical and mechanical.  He is a neophyte model railroader.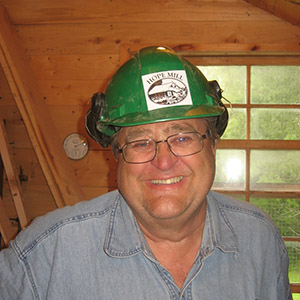 Jamie started volunteering in 2012. He trained as a mechanical designer and during his working career has worked as plant manager and most recently travelling extensively as a Global Technical Service manager for a steel company. He has always had a passion for wood and music and since his retirement has been able to devote more time both playing and building custom electric guitars (when not with his granddaughters who he and his wife Barb describe as the two sweetest little girls on the planet).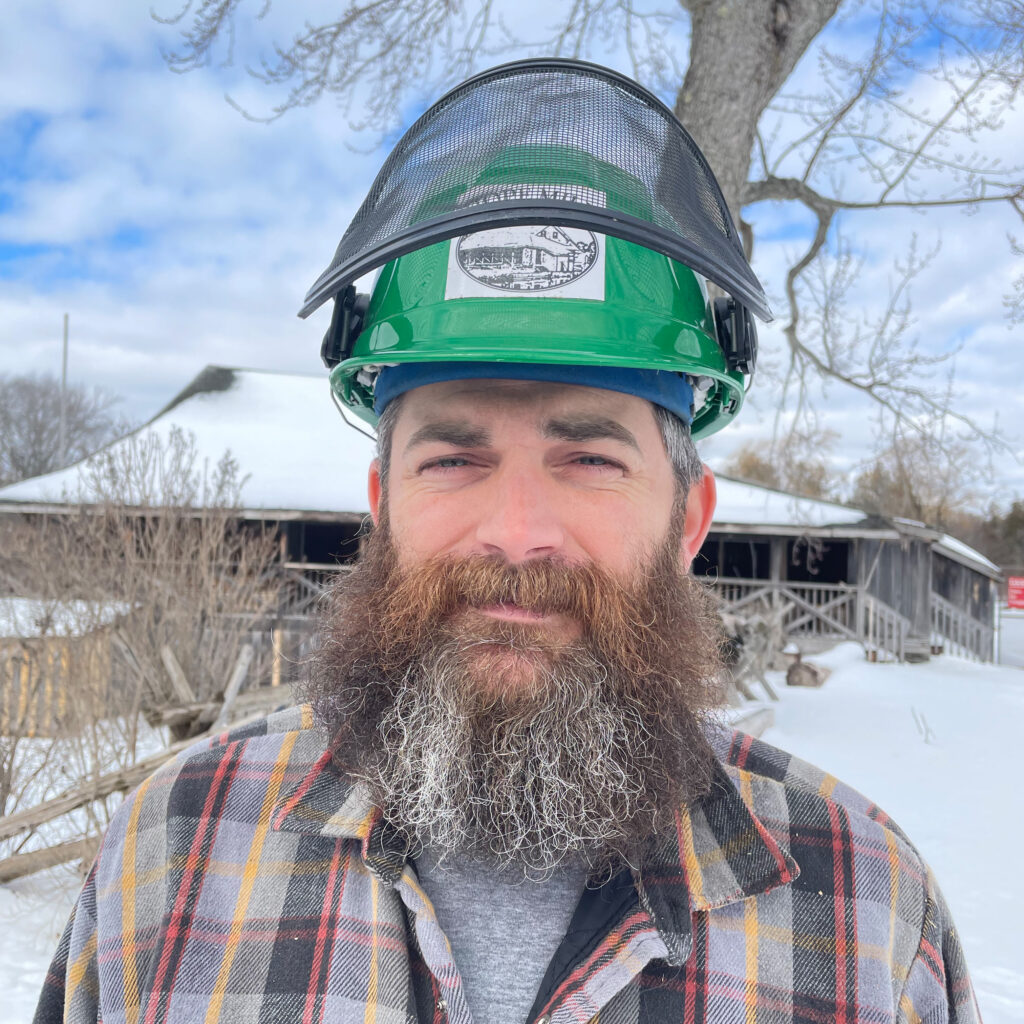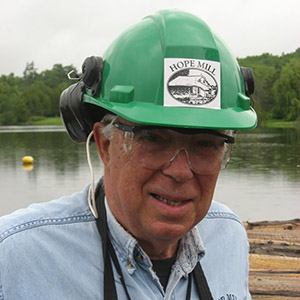 Terry has been a volunteer at Hope Mill since 2002.  He has worked in the physical restoration of the building, and as a sawyer, and with his wife, Sue, in the development of the Friends of Hope Mill.  Previously, before retirement, he was involved in the administration of three independent schools and international education.  Terry enjoys woodworking and carpentry in his shop at home, canoeing, camping, fly-fishing and travelling, as well as being an ardent supporter of theCanadianCanoeMuseum.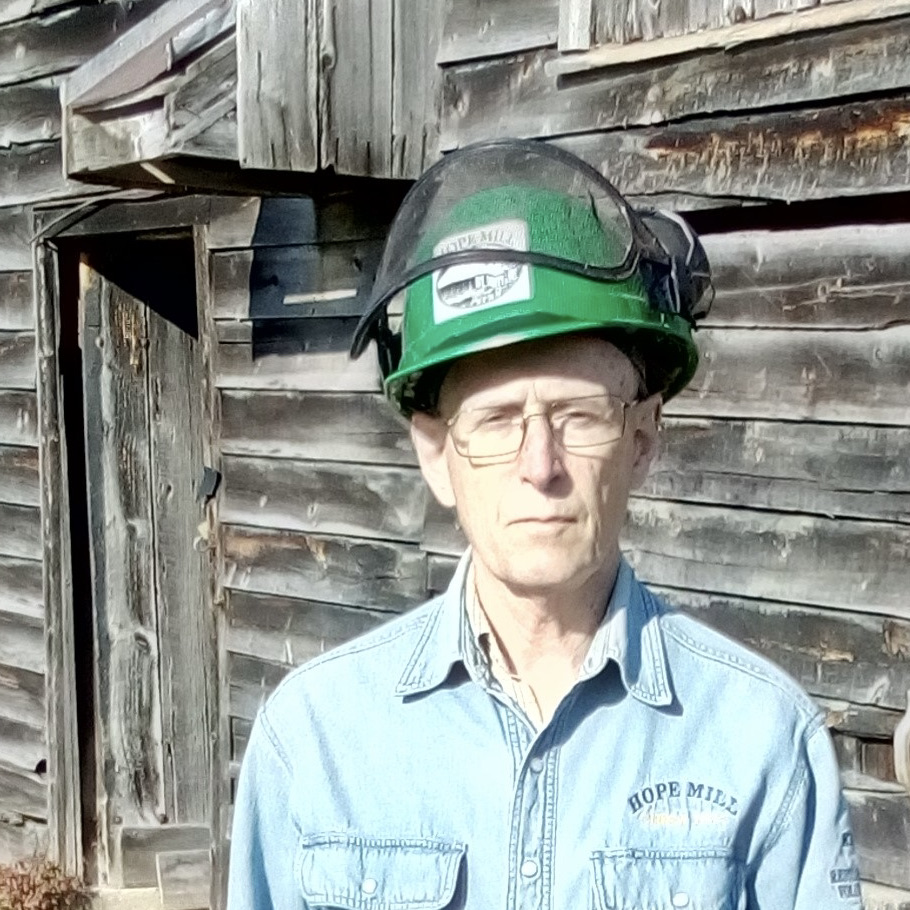 Ken has been at the Mill since 2002 and retired after 39 years at Canadian General Electric where he worked as a metrologist. He is the lead volunteer in the saw-room and is the main sawyer. His interests outside the Mill are woodworking and model railroading.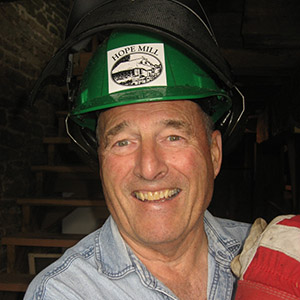 David started volunteering at the Mill in 2012 and is retired from the investment business. He is active on the saw floor as well as doing a variety of odd jobs around the Mill. He has a passion for old cars and old boats. He is also a volunteer at the Canadian Canoe Museum as well as being an avid reader.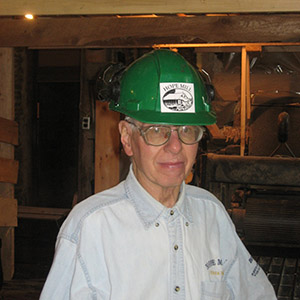 Bill has been a volunteer at the Mill since 2001 and is a retired mechanical engineer. His interests at the Mill include machinery restoration maintenance and improvement. While not at the Mill he enjoys automotive maintenance, hiking and reading.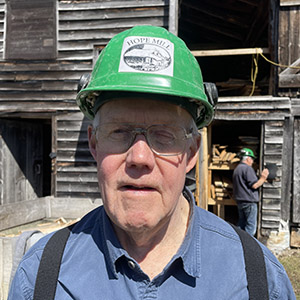 Wayne Hare has been a volunteer at the mill since 2015 after retiring from a 43 year career at General Electric Peterborough as a draftsman and engineering technician in Large Motors.  Wayne and his wife Anne enjoy cottaging on Paudash Lake.  Wayne is a dedicated Do It Yourself person having built a cottage in 1964 on Paudash Lake and enjoys woodworking, hunting, building furniture gardening and general repair work.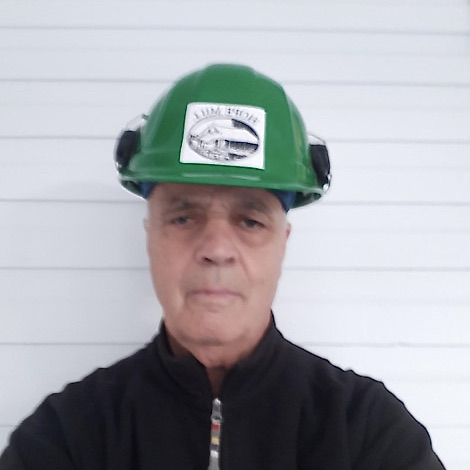 Jim started as a volunteer at Hope Mill in April of 2014 as soon as he retired after 31 is years at Quaker Oats/Pepsico in Peterborough. He has had a lifelong interest in the mill as a grandson of Jack Hope and having spent a lot of time growing up around the mill and river. He is currently the 5th generation owner of the Hope family home across the river from the mill.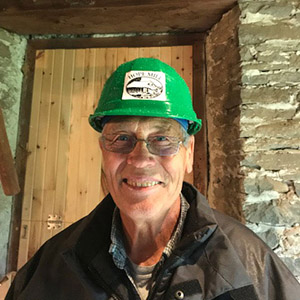 John has been a volunteer at Hope Mill since the spring of 2018. He grew up on a dairy farm and for 50 years enjoyed carrying on the family farm in Cavan, Ontario. His love of the outdoors and animals continues to be his passion in retirement. Over the years he has trained a wide range of animals: cows, hunting dogs, show pigeons, oxen, and more recently horses. He currently enjoys driving his team of Morgan horses. His 4 grandchildren are a source of pride and joy. He and his wife Brenda hope to travel more in the future. At the Mill he can be found working on the saw floor, trimming and sprucing up the outside grounds or helping build fences. As a new member of the team he is inspired by the enthusiasm and dedication of his fellow volunteers.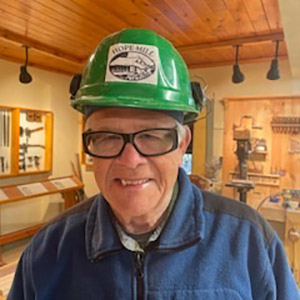 Dan Volman joined the Hope Mill team in 2021.  After he retired from a
a career in teaching mostly elementary school he found more time for his many
pursuits which include cycling, photography, skiing, cooking, world travel, and building fine furniture in his self-built woodshop.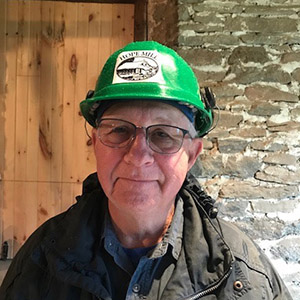 Don started volunteering at the Hope Mill in 2019. As a retired construction worker, he really enjoys his Tuesdays at the Mill. According to him, there is nothing like the smell of fresh sawdust in the morning. In his off-hours, Don enjoys woodworking in his garage and renovation projects. He and his wife Gerrie spend the winters in Florida with the grandchildren.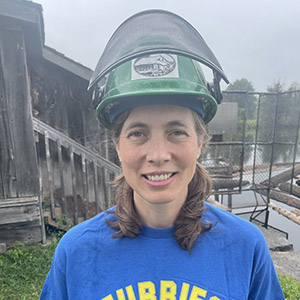 Wendy Darby is a local history teacher and archivist. She enjoys working at the mill and getting to step back in time and experience the power of water. She also appreciates the opportunity to refine her woodworking skills and learn the secrets of a skill that takes patience and perseverance. She is honoured to be a part of the living history at the mill.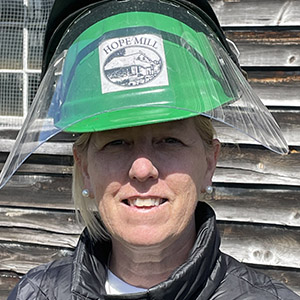 Catherine started volunteering at the Hope Mill in 2017 after her father, a fellow volunteer suggested she would be great to run the Hope Mill social media outlets. She has enjoyed learning new woodworking skills in our workshop and helping to keep the history of the Hope Mill alive! She is very impressed with the passion and enthusiasm all the volunteers have for the mill. When not at the mill she is busy with family, dogs, travel and boating.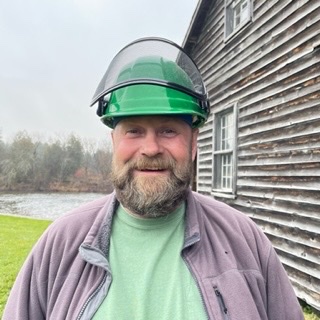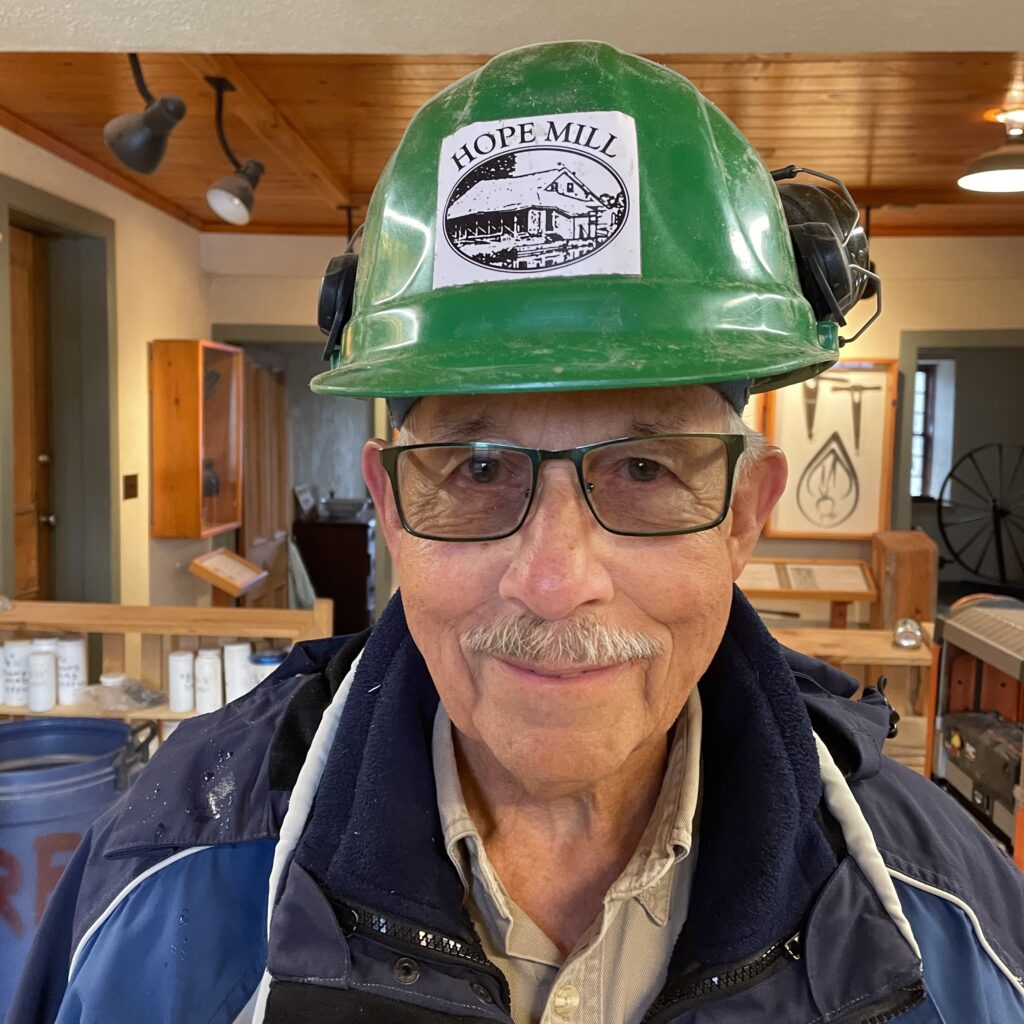 Roy is retired from 47 years in the floor covering industry. A long history of solving fix it challenges, which he really enjoys, along with woodworking at home and with the Durham Woodworkers Club has been very fulfilling. He likes to travel and enjoys time at his cottage where there is always a project and grandchildren to keep him busy. Having grown up on a farm, he looks forward to being a volunteer, learning from the other dedicated members and experiencing the continuing history of Hope Mill.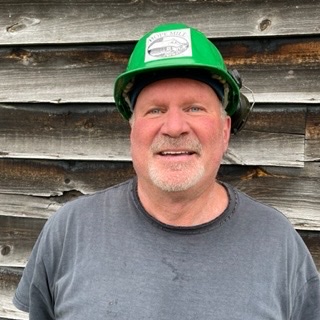 Brian worked as an industrial electrician for 46 years for various companies. He retired in 2020 and because of his interest in history especially in the Otonabee area he decided to volunteer at the Mill. He lives on Crowley Line on property that has been in his family since 1868. He and his wife raised three daughters there. Also an active volunteer at Lang Pioneer Village he is very active in retirement. He looks forward to working with the Hope Mill volunteers for many years to come.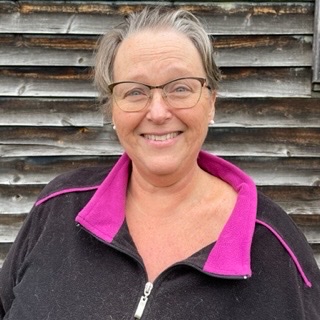 Darlene started volunteering at Hope in 2022 when the restrictions from Covid were lifted. Retired from PepsiCo Foods after 33 years, she is now an active member of the Peterborough Weavers and Spinners Guild and the Artisans Center Peterborough.  Her love of wool fibers and enthusiasm helped restore the "Wool room" at the Mill. The Wool room highlights the days before Hope became a sawmill, back to the Woolen Mill days! She enjoys spending her volunteer day spinning by the Mill Pond and talking to the visitors about early farm textiles.  At home she spends her time on her hobby farm with her gardens, animals and husband.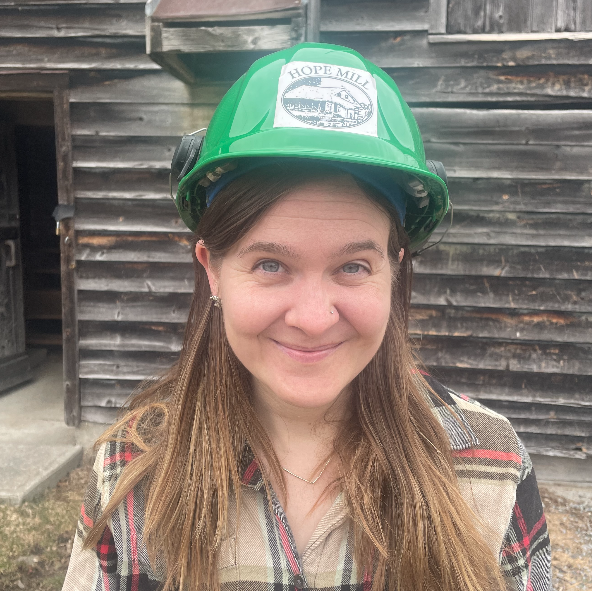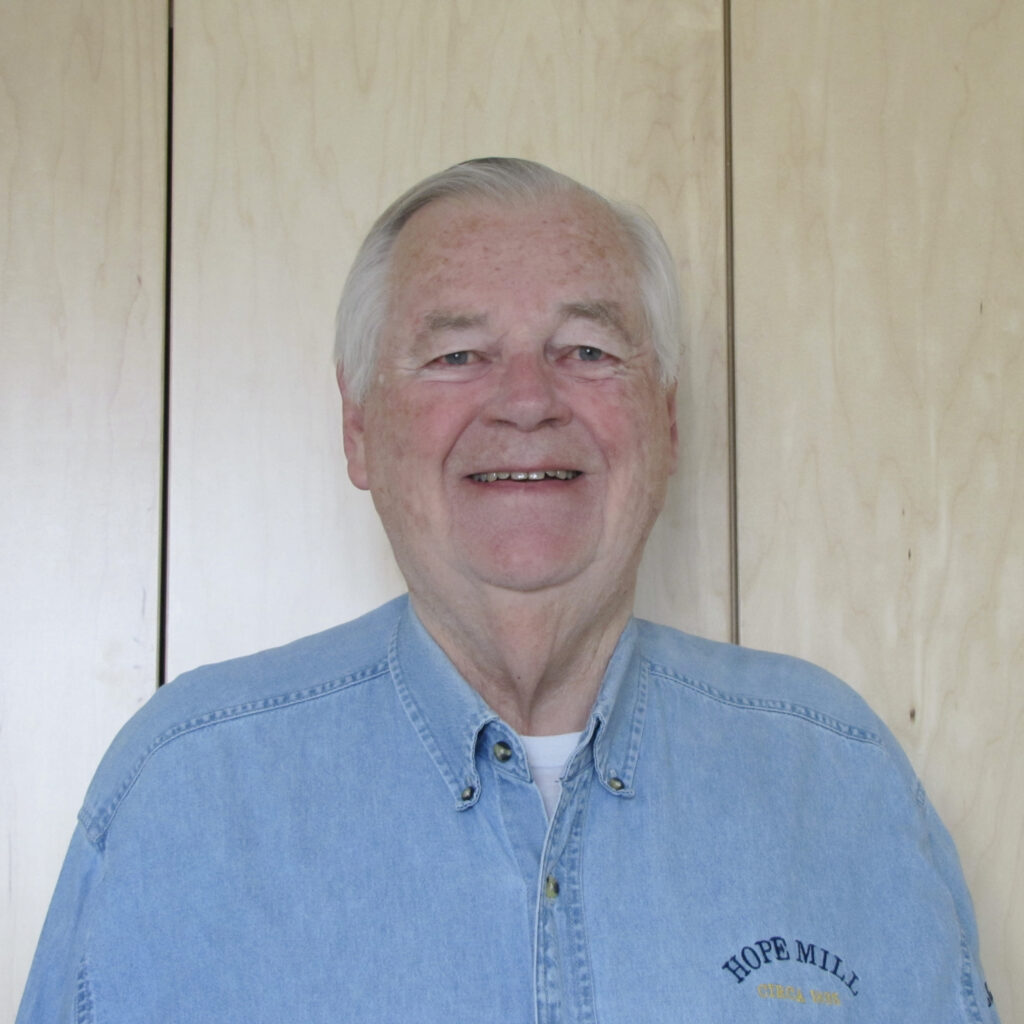 Bill became involved with the Hope Mill in 2002 after retiring from a 37 year career in banking. He worked on the physical restoration of the building and as a tailer on the saw floor and as the book keeper for the mill's bank account. He used his old truck to make regular dump  runs, deliver slab wood and bring logs to the mill from around the area.He retired from the Hope Mill Volunteers in 2012. Bill lived on a hobby farm in Norwood where he enjoyed gardening, managing a small wood lot and volunteering in community activities until he moved to Ottawa in 2021.