1966-1972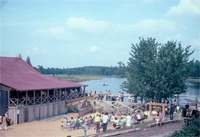 After 130 years of continuous family ownership, the Hope Mill was sold by John Miller Hope (Squire Lang's great grandson) to the Otonabee Region Conservation Authority in 1966. ORCA made extensive repairs to the property: the earthen dykes on both sides of the dam were regraded and raised; a passageway over the dam was built; stone walls were repaired; wooden siding was replaced; and the tin roof was removed and replaced with wooden shingles. The second floor living quarters were refurbished to exhibit the Joseph Sharp tool collection of some 500 items. The south wall of the sawhouse was opened up and a viewing gallery was built so that visitors could safely watch the sawyer winch logs up out of the millpond, cant them onto the saw carriage and cut them into lumber up to 20 inches wide. The scrap wood was cut into firewood lengths at the cut-off saw. A large and appreciative crowd attended the opening of the Mill on August 26, 1972. ORCA operated the Hope Mill as a heritage demonstration site, with John Thompson as sawyer, until 1993 when funding cuts forced the closure of the site.
2001- Present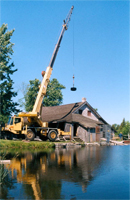 Beginning in 2001, in cooperation with the Otonabee Region Conservation Authority (ORCA) and the Otonabee Region Conservation Foundation (ORCF), the Hope Mill Restoration Volunteers (HMRV) spent every Tuesday from May to October 2001 to 2006 bringing the building and machinery back to life. Of top priority was the completion of foundation repairs and the restoration of the two turbines. GE Canada provided vital and invaluable assistance in refurbishing the turbines. The volunteers faced an unexpected setback in 2001 when vandals set a fire under the south-east corner of the saw-house. However, the Otonabee-South Monaghan Fire Department quickly contained the damage and the public rallied to help with the rebuilding.
Once the turbines and saw-house were operational, the volunteers worked on the wood-finishing machinery, which had been idle and untended since 1966. It was a memorable day when the circa 1910 "three-sided" planer produced a tongue-and-groove plank. Equally exciting was the start-up of the lathe on which the volunteers could turn wood up to eight feet in length.
Hope Mill was officially reopened as a heritage demonstration site on Sunday June 03, 2006.
Today, a portion of William and Jane's living quarters contains the impressive collection of 19th century woodworking tools donated by Joseph Sharpe. The collection has been remounted and interpretative panels now explain the many, intricate tasks which can be completed with these tools. Remnants of the carding equipment, wool artifacts and archival information are on exhibit in the Wool Room. A third room recreates a bedroom of the 1830s. Also on the second floor, a workshop for the demonstration of pioneer wood-working tools has been completed.
Since 2001, the Hope Mill volunteers have contributed more than 2,000 hours per year to the restoration, maintenance and operation of the mill.